Winter is here! That means the season of weddings is all set to roll out. This entire time period is exciting for so many reasons – dressing up fab, being bridesmaid or groomsmen, celebrating love and most importantly, enjoying a rich and fantastically designed wedding cake. Wedding cakes are the unspoken centrepiece of the big day and couples go all out to get a cake that satisfies them in both taste and style. So, if you are about to tie the knot soon and looking for wedding cake trends to hop onto, this blog has everything covered. Take a look below!
Pearls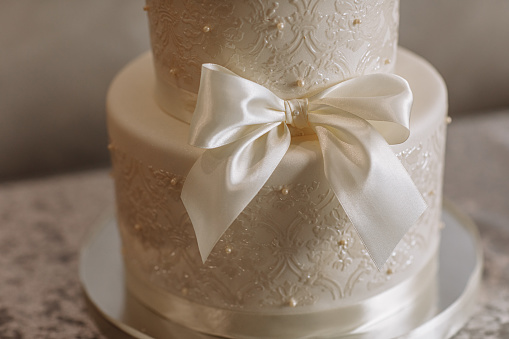 For those looking for a wedding cake that seems straight out of a royal fairy tale, go for a design in white sugar pearls. The trend isn't new but seems to be taking the cake in every ceremony. For this very reason, it has become a top choice for couples. Thus, if you want your cake to be glamorous, go for sugar pearls in the shade of rose gold, burnt gold or royal white. You can also give a nice touch of 'luxury' with edible glitters.
Flower Cascading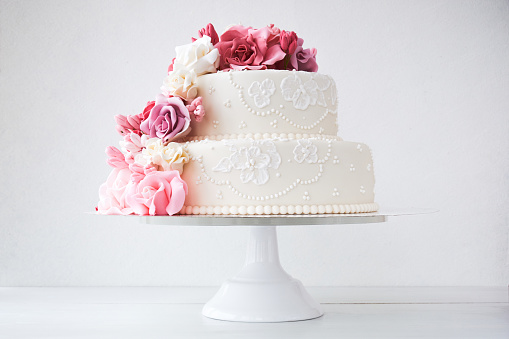 Wedding cakes and flowers are something that will never go out of trend. They are indeed a match made in heaven and are show-stoppers for the big day desserts. After all, floral arrangements can add vibrancy to even the simplest of cakes at a relatively low price. Floral cake designs can vary from simple random trimmings to bold vibrant cascading drapes, that are sure to woo the onlookers.
Edible Pressed Flowers
A perfect and delightful alternative to layering cakes with voluminous flowers, edible pressed flowers have been a trendsetter for a few years. Dried flowers, that you can actually eat, are pressed against the buttercream. This not only offers a unique pop of taste, flavour and colour to your cake but also makes it Instagram-worthy. The trend is subtle, stylish, minimalistic and not to forget, sustainable.
Sculptural Decorations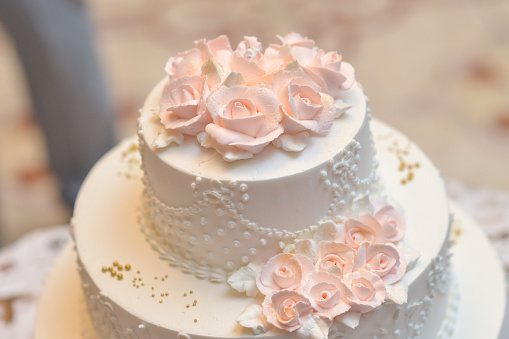 Another wedding cake trend that is predicted to continue for another year, is sculptural decorations. No doubt this cake tastes heavenly, but its visual makes the jaws drop. Surrounding the piece of art, there is no dearth of a creative 3D design – perfect for a style-led couple who is an ardent art lover. And the best part about going the sculptural decoration route is that you get endless colour and design options.
Metallic Marvel Wedding Cake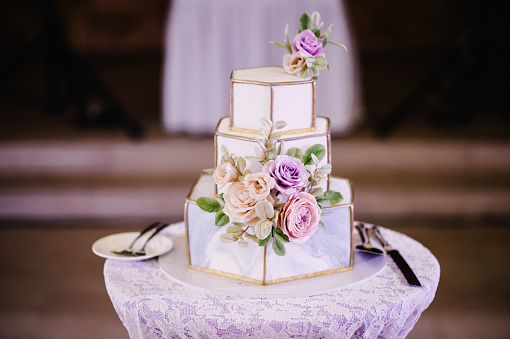 Who said diamond and gold have to be only limited to jewellery and costumes? You can incorporate them into your D-Day cake too. If you want to surprise yourself as well as your guests, go for awe-inspiring and breathtaking metallic marvel designs. Just choose a metallic theme and watch it spread magic onto your cake.
Square Tier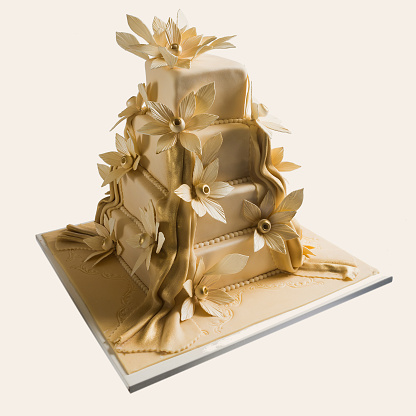 If there is a wedding cake trend that has been rising in popularity over the past few years, it's the square tier. So, if your wedding happens to be a small, intimate and minimalist affair, a square tier will be a surefire thing.
Bow Cakes
Looking for the wedding cake trends that are taking 2022 by storm? If that's the case, don't miss out on bow cakes. Soft, minimalistic and elegant kinds of cakes, bow cakes are plain coloured cakes that have an elaborated bow on top. The cake makes an ideal when you want to impart a classy vibe to it without going overboard in the most subtle way.
There you have it! So, if you are planning a wedding in near future, follow these wedding cake trends that are expected to be a huge hit. These cakes are sure to make your special occasions more special. PS – While you can have a visually pleasing cake, it should taste even better than it looks.