A simple pack of chocolates is not every food lover's dream gift. But a basket full of treats is sure to make them happy. The tingling zest of gourmet food leaves a spellbinding taste behind, making one want more. And when you have a food lover on your side, we assume you know enough about relishing Haute cuisines and gourmet delights. So, if you're planning to give an edible surprise to a foodie around you, then gourmet gift baskets can be a good pick. Check out these amazing gourmet gift baskets for every food lover that will make them go wow.
Dates & Assorted Baklava Basket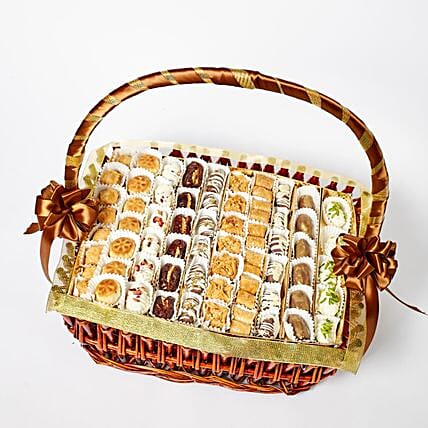 Arabic sweets are like a cherry on the cake. And indulging in the rich flavours of dates along with yummy baklava is a sweet experience. Give your food friend a basket full of baklava in various types and choco-dipped dates for a traditional surprise.
Vegan Cheese Box with Condiment
Giving food gifts to a vegan is no more a struggle. If you have a vegan food lover on your list, then this vegan cheese box with condiments is a perfect gift to surprise them. This basket consists of 5 types of cheese, nuts and berries, crackers, fruits and much more.
Handle Basket of Treats
If your food lover friend is fond of salt and peppery surprises, then this basket of treats is definitely for them. From gourmet chips and chutney to organic bars, ketchup and fusilli, you can get enough edibles to delight a foodie with this basket.
Truffles and Dried Fruits Basket
Indulging in nutty and chocolaty flavours is every food lover's favourite pastime. And this basket will help them have flavourful ones. Truffles and dried fruits basket is a special assortment of roasted nuts, truffles, and caramel topping. Dried figs are like an added surprise to enhance the taste.
Gourmet Healthy Snack Hamper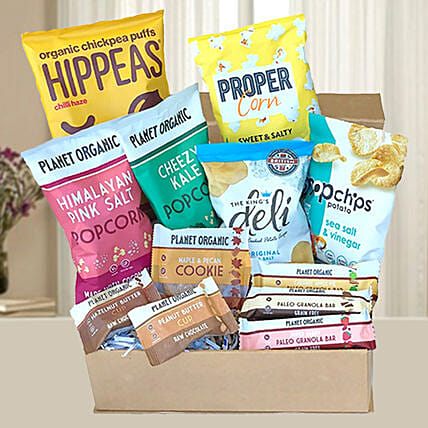 Besides going classy, you can even opt for some healthy food gifts that are delicious and accurately nutritional for the body. Gourmet healthy snacks hamper has a collection of organic edibles and healthy food gifts like chips, popcorns, caramel apple, peanut butter cup, maple cookies and much more.
Special Treats Hamper
Special Treat hamper is an assortment of flavourful dried fruits, figs and nuts. It consists of cute mini jars with dry figs, dry mangoes, dried kiwi, apricots, mixed nuts, dates and much more. And the presentation of this basket is sure to melt any gourmet lover's heart.