7 Budget-friendly Decoration services
Author:

Apeksha Rawat

Published:

27th January, 2020
The decoration is the first thing that people notice when they go to an event or a party. It plays an important role in enhancing the mood and setting a perfect ambiance for any type of party or event. While a good decoration can leave an everlasting impression on people, a bad one can ruin the entire event. People often have this misconception that an elegant décor can cost them a fortune, which is not true. We present here 7 budget-friendly flowers, hearts, stars, and balloon decoration services that can be availed online to add the right amount of fun to special occasions.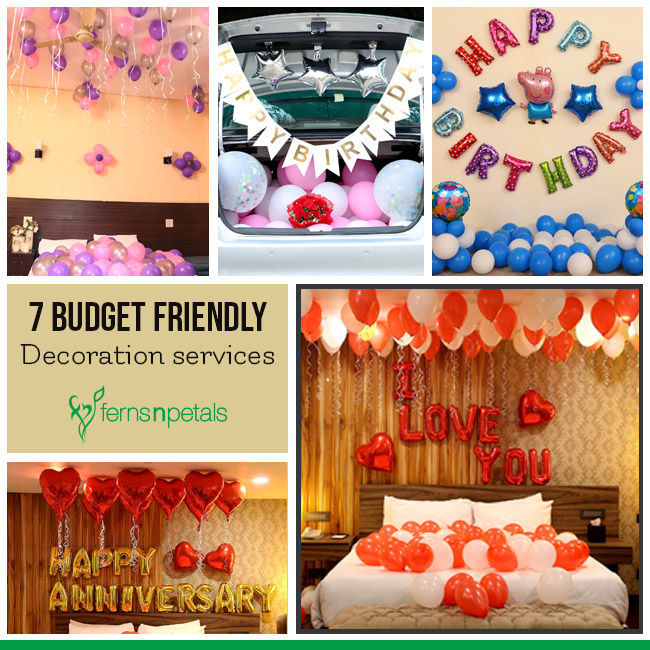 Rose Gold Birthday Theme Balloon Décor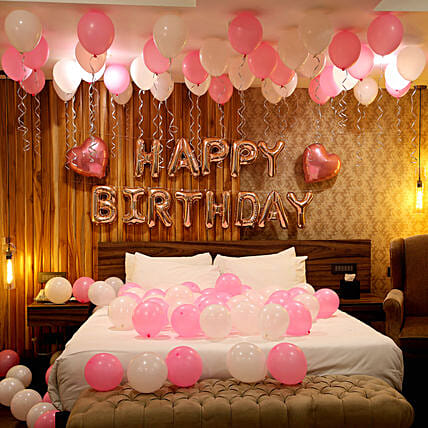 Your loved ones deserve to be pampered and spoiled on their big day. This rose gold theme balloon décor is a great idea to plan a birthday surprise for a friend or a special one. The gorgeous pink and white balloons along with a tin foil 'Happy Birthday' balloon will create a warm aura in the room and surely put a smile on the person's face who is being celebrated.
Birthday Surprise Car Boot Décor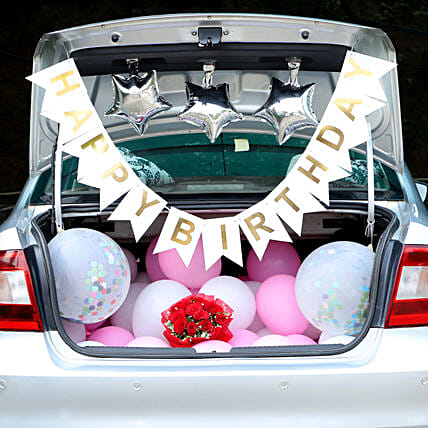 Isn't it amazing to turn the trunk of a car into a space full of surprises? The car trunk will be decorated with lots of balloons and a birthday banner. It will make an excellent midnight birthday surprise for a friend, beloved or a loved one. Right when the clock strikes 12, you can stop the car somewhere in the middle and ask the person to open the trunk of the car full of surprises.
Dreamy Umbrella Decoration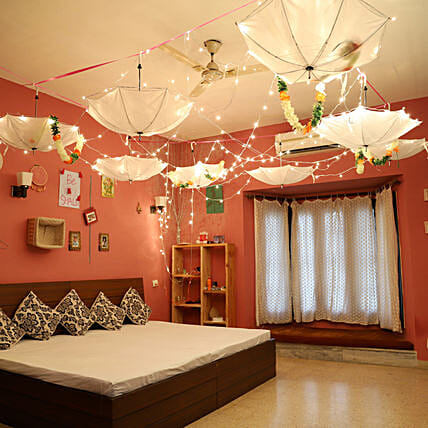 This creative surprise is best to leave a lasting impression and give the celebrating person memories galore. The beautiful umbrellas hanging upside down from the ceiling along with fairy lights will make one feel as if they are surrounded by stars on a magical night. It is a perfect way to surprise a friend on a special occasion who is a fan of dreamy things. It will also make a great décor idea for a proposal night.
Romantic Red Themed Love You Balloon Decoration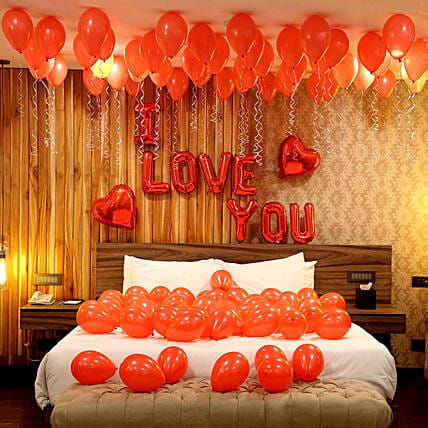 The gifts or décor items that are red in color or heart-shaped speak of love in a beautiful way. This romantic décor exhibits 'I Love You' alphabet foil balloons and 100 red balloons hanging from the ceiling. It would be a perfect décor idea for romantic occasions like anniversary and Valentine's Day.
Propose in Style Balloon Décor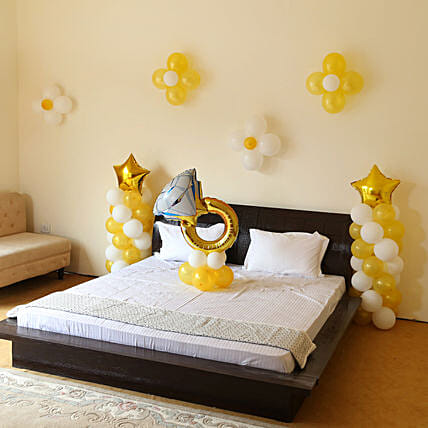 Proposing that special one is one of the most special moments of life. Are you thinking to propose your partner in an impressive style? This stylish gold and white balloon décor with a big ring-shaped foil balloon will mesmerize your partner in a great way and make her feel as if she is the part of some fairy-tale.
Pom Pom & Hearts Decoration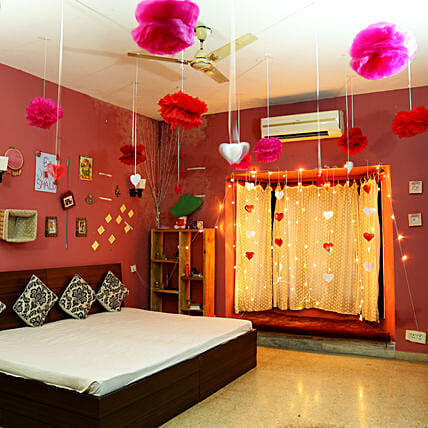 This unique pop pom and hearts décor paired with LED lights is absolutely perfect to add color and flavour to a special occasion. Be it a friend's birthday, parent's anniversary, or Valentine's Day, this colorful décor will bring a smile to people's faces and ensure that the event stays cheerful throughout.
Peppa Pig Themed Birthday Décor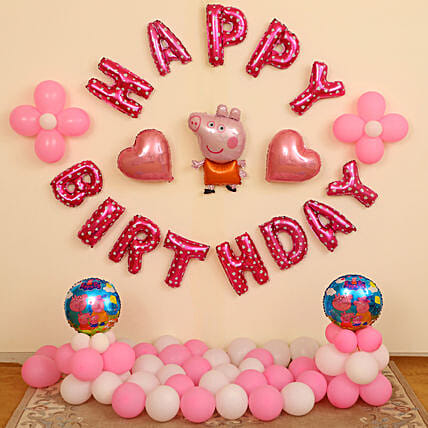 Both balloons and cartoon characters are loved by kids. Combined together they would make an excellent décor for kids' birthday party, just like this one. This Peppa Pig themed birthday décor includes 'Happy Birthday' alphabet foil balloon, heart-shaped pink foil balloons, peppa pig-shaped balloons, and lots of pink and white balloons. This cartoon themed birthday decoration will definitely be popular among children and let them enjoy the birthday party even more.
One can avail these budget-friendly decoration services online and give their friends and family members loads of sweet moments to cherish.