Simple Engagement Decorations At Home
Author:

Shubhankar

Published:

26th July, 2022
Engagement is the promise of eternal love. To announce to the world that you have found your soulmate has its charm. From being single to getting engaged is a mystical tale that needs to foretell itself. An engagement ceremony is an unforgettable affair that celebrates the story of love and togetherness. To make your upcoming engagement an extremely beautiful event, you should organise a party at your sweet home. For helping you out with your ceremony, here are a few ideas for simple engagement decorations at home.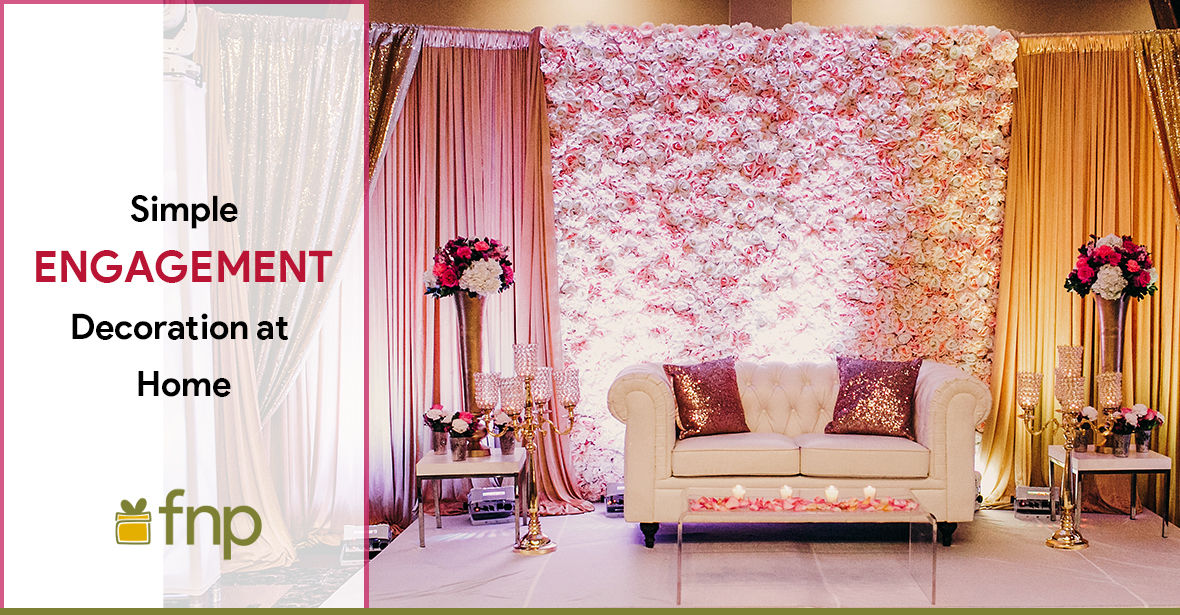 Floral Decorations
For making your engagement a floral affair, you should buy flowers of your choice. If something elegant is on your mind, you can buy white and pink lilies. Get a white curtain and decorate the wall behind your sofa. Cover the wall with the curtain, make a garland of the white and pink lilies and decorate it on the top of the curtain. For enhancing the whole look, you can add warm white lights around the curtain. Get 4 to 5 vases and decorate them with freshwater and white and pink lilies. This floral decoration will look gorgeous and is quite simple.
Balloon Decorations
If you prefer balloons over flowers, then you can decorate your living room with balloons. For a chic decor, get golden or silver and white colour balloons along with curling ribbon. Decorate the whole roof with helium balloons and paste the pictures of the couple on the end of the curling ribbon. Throw a few balloons on the floor and get a quirky banner for the wall.
Lights All-Around
To be a little unique, you can get LED lights of white or golden colour and print pictures of the couples. Take five strings of LED lights and add them one below the other. With the help of the clips that came along the light, attach the pictures on the string of the light. This decoration is perfect for an evening party.
Garden Decorations
For a memorable evening engagement party, keep your garden as the venue. Bring white or pastel colour curtains and decorate your garden with lights and flowers. Get your mattresses outside in the garden and party all night with your friends after you have exchanged the rings.
These simple engagement decorations at home will make your d-day a legendary one. For a cosy engagement at your casa, now you can easily do the decorations with these remarkable ideas and click some insta worthy pictures!