Ramadan and Eid are two of the most significant celebrations in the Islamic calendar. The 30-day-long festival of Ramadan is a time for spiritual reflection, prayer and fasting. At the end of Ramadan comes Eid al-Fitr, the festival of breaking the fast. This is a joyous occasion celebrated by Muslims all over the world and carries immense cultural & religious significance. It is also a time for gift-giving. Therefore, this blog sheds light on top traditional gift ideas for Ramadan and Eid.
Prayer Rug
Prayer is an essential part of the Muslim faith and a prayer rug is a crucial item for Muslims to have. Giving a prayer rug as a gift is a meaningful gesture that will be appreciated by the recipient. Prayer rugs come in a variety of colours and designs, and they are made from different materials. Some popular types of prayer rugs include silk, wool and cotton. When selecting a prayer rug as a gift, consider the recipient's preferences and choose accordingly.
Islamic Art
Islamic art is a beautiful, stunning and unique form of art that has been around for centuries. It is characterized by its intricate geometric patterns, calligraphy, and floral motifs. Giving Islamic art as a gift is a wonderful way to introduce someone to this rich cultural tradition. Thus, you can always consider sending one or more when searching for traditional gift ideas for Ramadan and Eid. Islamic art comes in many forms, including paintings, calligraphy, ceramics, and textiles. Also, don't forget to consider the size and placement of the artwork, as some pieces are better suited for display in specific areas of the home.
Halal Gift Hamper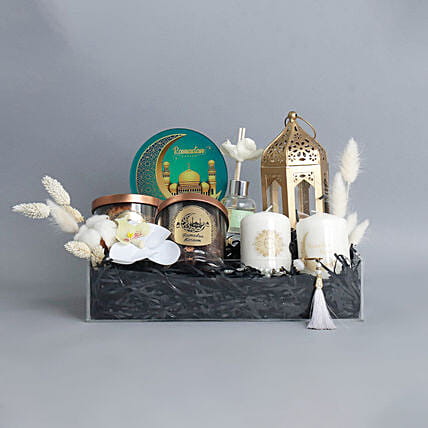 When thinking of thoughtful, practical and traditional gift ideas for Ramadan and Eid, you are sure to receive all the appreciation with a halal gift box. It's an ideal Eid gift that is a great way to show your fam-bam how much you care about them. Besides, who wouldn't enjoy a gift that has everything in one place, right? Go for a halal Eid gift hamper made up of beverages, sweets, chocolates and other gourmet treats.
Apparels
In observance of a cherished custom, Muslims adorn themselves in fresh, vibrant attire to commemorate the joy and festivities of Eid al-Fitr. Accordingly, it is customary to bestow the loved ones with new garments, such as salwar kameez, abaya and traditional Saudi suits.
Dates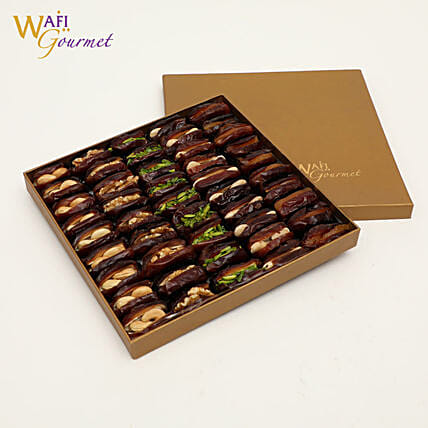 Eid al-Fitr is a day when families come together to enjoy elaborately prepared meals that are prepared with much love and joy. And the occasion is incomplete without the sweet treats dates are! They are an important part of the holy month and are consumed both at Suhoor and Iftar. Muslims break their fast with dates and water. They are also a symbol of hospitality and generosity. Giving dates as a gift is a traditional gesture of goodwill during Ramadan and Eid. You can order from various date boxes that come in beautiful gift wrapping.
Sweets

When talking about traditional gift ideas for Ramadan and Eid, you cannot miss out on sweets. Spread the cheer this festive season with Eid sweets such as Sheer Kurama, Baklava, Kheer, Maamoul, Shahi Tukda and Firni. You can buy pre-packaged sweets or create your own gift box with a variety of sweets.
Scented Candles Set

Last but not least amazing Eid gift would be a set of exquisitely scented candles, an impeccable present for men and women. A gift pack of scented candles, featuring distinct scents, are most likely to evoke a sense of tranquillity and serenity.
Eid al-Fitr is not just about gifts but faith & family. So, while you shop from any of these traditional gift ideas for Ramadan and Eid, don't forget to spend time with those you hold dear. These gifts are not only a symbol of your appreciation & love but also reflect the rich cultural traditions of the people's faith.
May this Ramadan and Eid bring peace, joy, and blessings to you and your loved ones!