With the ongoing pandemic, many employees are still working from home, making it difficult to celebrate Ramadan in the traditional way. However, it's still important to show appreciation for your team's hard work and dedication during this holy month. To do so effortlessly, there are plenty of thoughtful Ramadan gift ideas that can bring joy and gratitude to your employees, even while they work from home. Take a look at some of them below:
Ramadan Care Package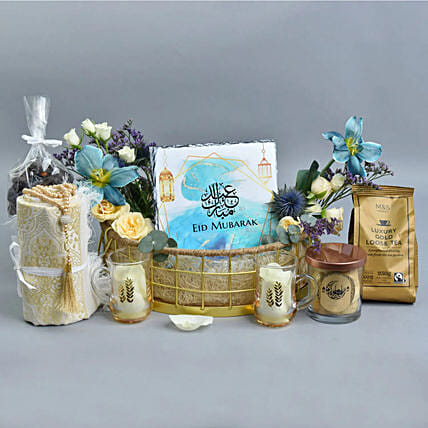 A Ramadan care package is a great way to show your employees that you care about them and their well-being. Fill the package with essential items for the holy month, such as dates, nuts, prayer beads, and a copy of the Quran. Or you can follow the traditional route and include items that promote self-care, such as scented candles, face masks, bath bombs and aromatherapy oils. This gift idea is not only thoughtful but also practical as it provides your employees with items that they can use for a longer period.
Personalised Prayer Mat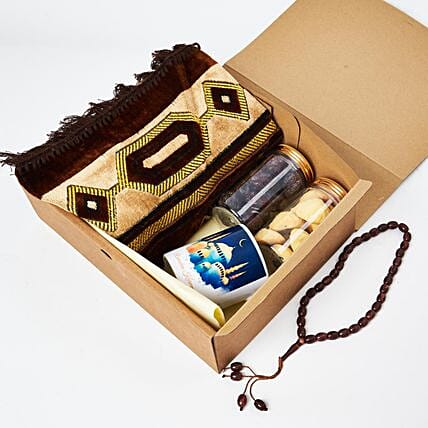 Next on our list of thoughtful and appreciative Ramadan gift ideas is a personalised prayer mat. You can customise the mat with their name or a personal message, making it a meaningful gift. This gift not only shows your thoughtfulness for your employees but also helps them feel more connected to their faith during the holy month.
Digital Quran
With many employees working from home, a digital Quran can be a valuable and convenient gift. You can provide your team with a subscription to a Quran app or website, which they can use to read and study the holy book of Islam. This gift not only supports their spiritual journey but also helps them stay focused and productive during their workday.
Virtual Iftar
Hosting a virtual iftar is an excellent way to bring your team together, even if you can't celebrate in person. You can send your employees an iftar meal kit, which includes all the ingredients they need to prepare a delicious iftar meal. Alternatively, you can provide them with a gift card to a local restaurant that offers iftar meals. During the virtual iftar, you can have everyone share their experiences and reflections on Ramadan, creating a sense of community and connection.
Gift Card/Voucher
With online shopping taking a huge leap, especially during the pandemic, it now makes up for a practical and convenient gift for every occasion. Your employees can use the gift card to purchase items they need or want, such as new clothes, Ramadan chocolate gift packs or home décor items.
Islamic Artwork
Islamic artwork is a meaningful gift that can add a touch of spirituality to your employees' home office or living space. You can choose from a variety of pieces, such as calligraphy, paintings and sculptures, that reflect Islamic art and culture. This gift not only celebrates the beauty of the Islamic faith but also provides your employees with a reminder of their values and beliefs.
Plants & Flowers

Show your reverence towards your employees and clients by sending a set of desktop plants. It's a beautiful gift of giving that will stay by their side for years. An arrangement of green babies will serve as a beautiful reminder of your love and support. Choose from an evergreen selection of flowering plants to shower your greetings of the day.
These were some of the thoughtful Ramadan gift ideas that can bring joy and gratitude to your employees. While choosing the gift, do check that it aligns with your team's interests and values.