The onset of every festival, especially Diwali, calls for something sweet. And what can be more heart-melting and sweeter than a box of chocolates, right? Chocolates are a must-have on Diwali for they are a crowd-pleaser and available in a wealth of options to delight almost every taste bud. To help you make this auspicious occasion a delectable affair, we've put together some of the best chocolate hampers for Diwali that will make your dear ones go nuts.
Diwali Special Choco Crackers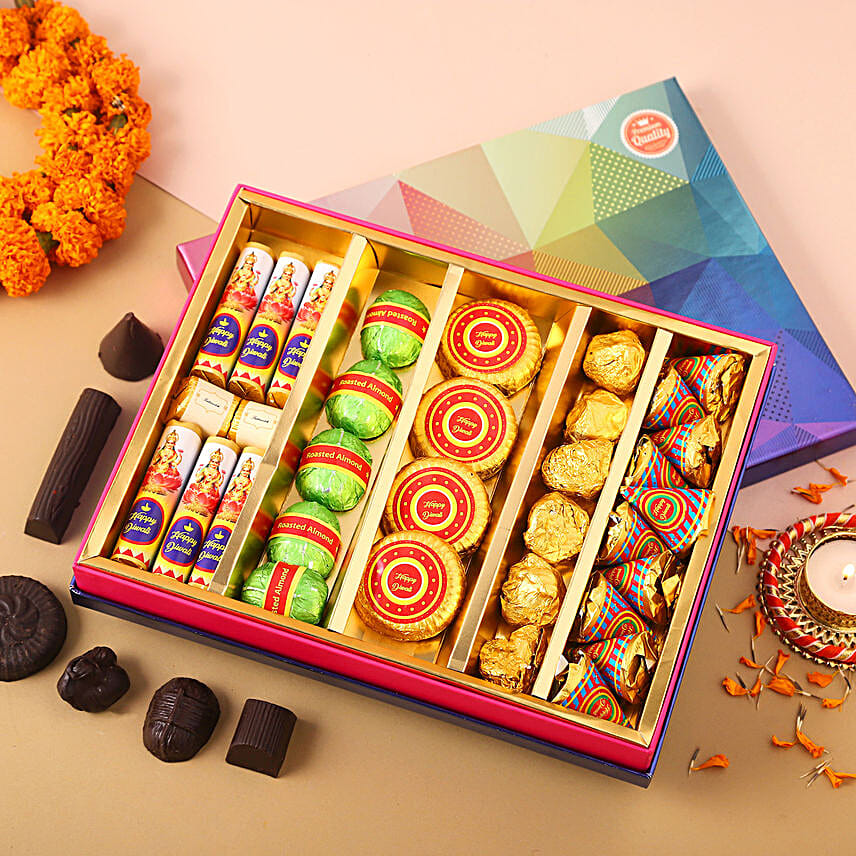 Make their mouth and soul burst with joy with this Diwali special choco crackers box. The box comprises a scrumptious range of celebration chocolates in vintage firecrackers designs and labelling such as chakri, anaar, rocket and green bomb. The gift would make a great pick as well as convey the message of celebrating Diwali pollution free.
Personalised Diwali Special Chocolate Box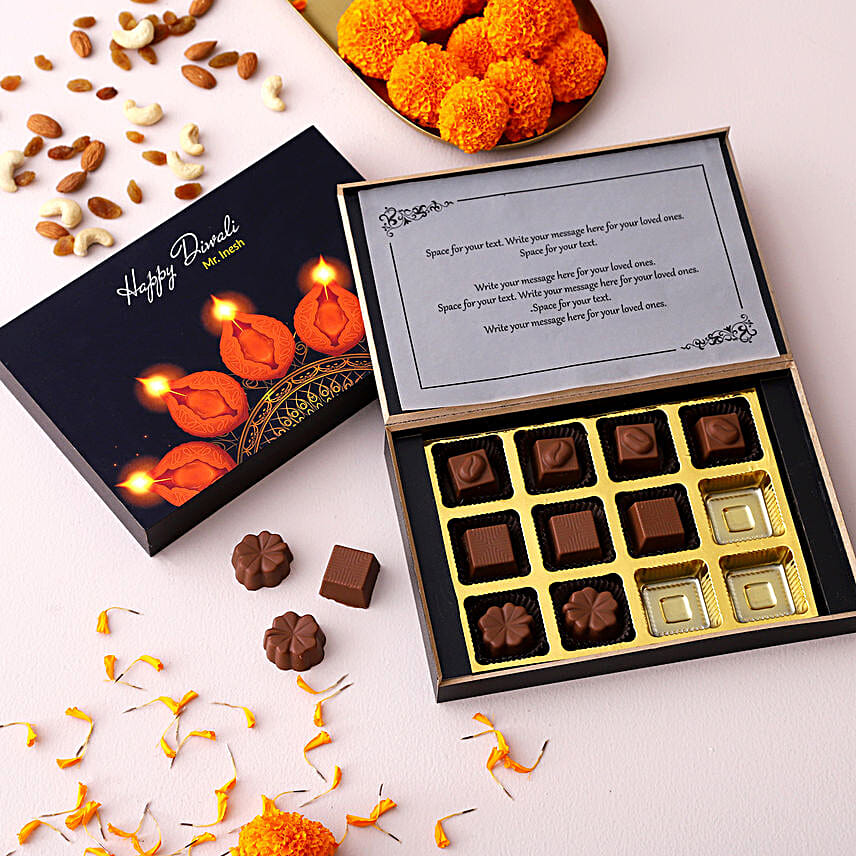 Of course, you can go for a regular chocolate hamper but why settle for an ordinary one when you can get something extraordinary by spending the same amount of bucks? So, if you have been scratching your head for unique Diwali gifts and/or are someone who struggles with words, go for a box of personalised Diwali chocolates. Simply go to any online gift delivery site, choose from an assortment of personalised chocolates and enter your Diwali greetings. So, when you've to convey your Diwali wish, say it sweetly with chocolates. You can be certain your message won't be missed.
Champagne and Chocolates Gift Basket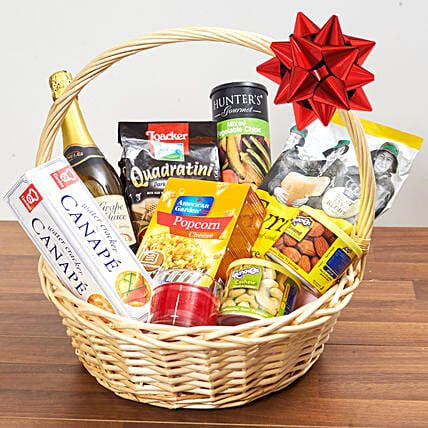 The evening of Diwali is incomplete without a hearty game of cards while enjoying wine and pieces of chocolate. Therefore, a stunning gift basket made up of classic champagne nestled among decadent chocolates is guaranteed to impress. This generous chocolate hampers for Diwali will truly make an unforgettable gift.
Chocolate Tower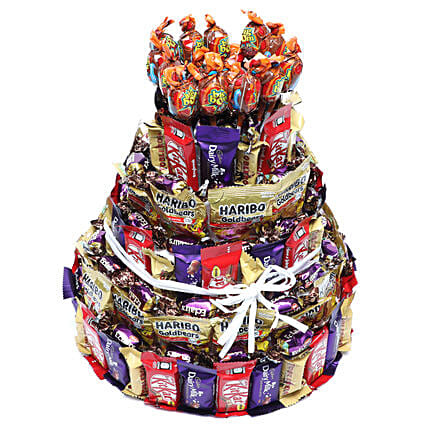 Add a unique sparkle to your loved ones' Diwali festivities with a chocolate tower made up of a scrumptious range of yummy chocolates. You can find chocolate towers made up of various chocolate varieties and available at different heights. Since chocolate towers are made up of colourful patterns and interesting designs, they make an elegant Diwali gift.
Premium-Quality Chocolates with Laxmi-Ganesha Idol & Candles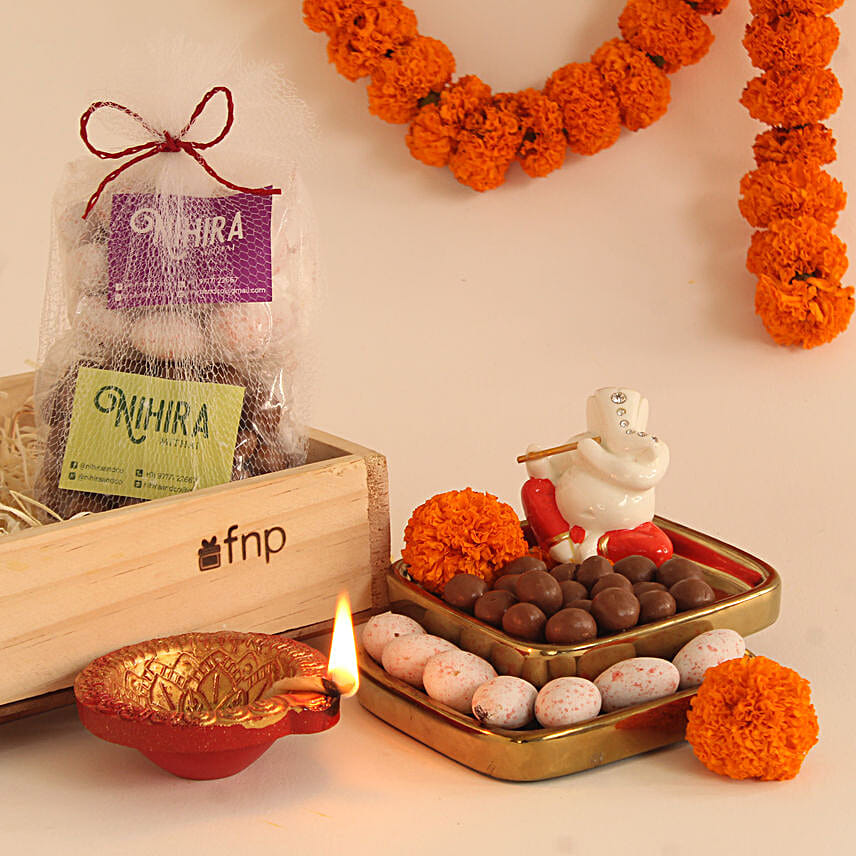 Gifting your dear ones a beautifully-decorated hamper of yummy chocolates along with idols of Goddess Laxmi and Lord Ganesha will perfectly grace the auspicious occasion of Diwali. The gift will definitely win the heart of your recipient as you will give them the pleasure of indulging in sinful treats and shower upon them the blessings of the almighty. Moreover, a set of candles/scented candles will make attractive home décor and jazz up their Diwali lighting.
Milk Chocolate Tray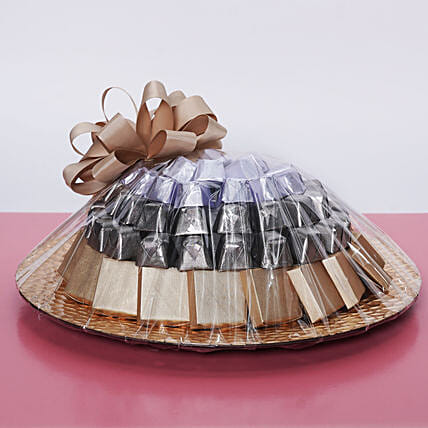 This Diwali, pave the milky way for your dear ones with this tray of milk chocolate. Indulgent, exclusive and unique, this chocolate hamper makes a delightful gift for every occasion, especially Diwali. Besides, whether you are looking for a memorable gift for your family & friends or in need of a Diwali corporate gift for your extended family, this one takes the cake.
It's almost time for Diwali! So, head on to buy the best chocolate hampers for Diwali for your loved ones and make your bond with them much sweeter & stronger than before.