Planning a party but running short on time? Don't panic! With a little creativity and resourcefulness, you can transform any space into a festive haven. In this blog, we present you with five quirky and last-minute party decoration ideas that will wow your guests without breaking a sweat. Dive in to know how to make your event memorable at the eleventh hour.
Balloon Bonanza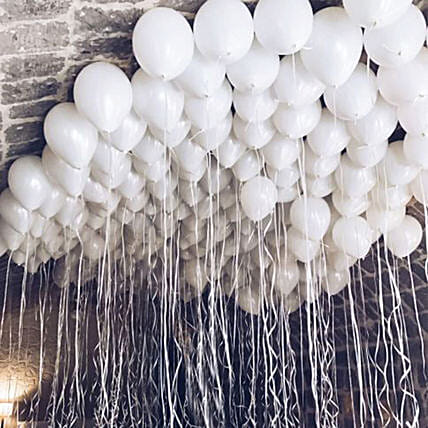 Balloons are a classic party decoration, and they come to the rescue when time is of the essence. Create a balloon bonanza by filling your space with colourful balloons in various sizes and shapes. Opt for metallic or confetti-filled balloons to add a touch of glamour. Hang them from ceilings, create balloon arches at the entrance, or scatter them around the room for a whimsical atmosphere. Don't forget to tie ribbons or polaroids to the balloons for an extra pop of colour and emotions.
Streamer Spectacle

Streamers are an inexpensive and versatile decoration option that can transform any space in an instant. Unleash your creativity by crisscrossing different coloured streamers from wall to wall, creating a vibrant canopy effect. Twist and twirl them around bannisters, door frames or even furniture for an eye-catching spectacle. You can also hang them vertically to create a cascading curtain effect. Choose colours that match your party theme or opt for a vibrant mix for an eclectic look.
DIY Photo Booth
Repeat after us – No party is complete without capturing the fun and memorable moments, especially in this IG era. Create an impromptu photo booth that will delight your guests. Hang a large, colourful sheet or fabric as a backdrop. Then add props like hats, masks, quirky quotes and funky glasses. Provide a box of accessories nearby, and watch as your guests strike poses and create lasting memories. This is the easiest and among must-have last-minute party decoration ideas!
Tabletop Delights
Transform your dining or buffet table into a visual feast by incorporating simple yet creative decorations. Use colourful tablecloths or runners to set the mood and create a focal point. Utilise items you have around the house, such as mason jars filled with flowers, colourful candles, fairy lights or even potted plants. You can also arrange a variety of plates, bowls and serving dishes with contrasting colours and patterns to add visual interest. Don't forget to sprinkle confetti or sequins on the table for an extra touch of sparkle.
DIY Lighting Magic
Create an enchanting ambience with clever lighting solutions. Hang string lights or fairy lights around the room to add a warm and magical glow. Utilize candles in various shapes and sizes for a cosy and intimate atmosphere. If you have extra time in hand, create DIY lanterns by covering glass jars with tissue paper or decorative paper. Place battery-operated tea lights inside and hang them from trees or position them along walkways for a captivating effect.
Throwing a last-minute party doesn't mean compromising on style or creativity. Rest, with these quirky and creative last-minute party decoration ideas, you can turn any space into a party paradise in no time. Remember, it's the thoughtful touches and attention to detail that make an event truly special. So, roll up your sleeves, embrace your inner decorator, and get ready to dazzle your guests with your last-minute party decorations. Cheers to a memorable celebration!