With summer here, many brides and grooms would be planning their weddings and considering the perfect flowers for their special day. Flowers are an essential part of any wedding and choosing the right ones can make all the difference. They are ideal to add a touch of beauty, elegance and romance to the occasion. In 2023, there are several summer wedding flower trends that you shouldn't miss out on if you want your day to be unforgettable. Take a look at them below:
Bright & Bold Colours
In 2023, bright and bold colours are taking centre stage for wedding flowers. Think rich jewel tones, such as emerald, sapphire, ruby, and amethyst, paired with bright pops of yellow, orange, and pink. These colours will make your wedding flowers pop and add a playful, festive feel to your celebration. Consider using peonies, dahlias, or sunflowers in your bouquet or arrangements to achieve this look. They're perfect for summer weddings, as they reflect the warmth and sunshine of the season.
In fact, one of the hottest and must-have choices include sunshine yellow. A yellow bouquet is most likely to grab all the attention and make every head turn.
Natural and Rustic
The natural and rustic trend has been popular for a while and it's not going anywhere in 2023. This trend emphasises organic and earthy elements and is perfect for outdoor weddings. Consider using wildflowers, eucalyptus or ferns in your arrangements to achieve a natural and rustic look.
Petite Wedding Bouquet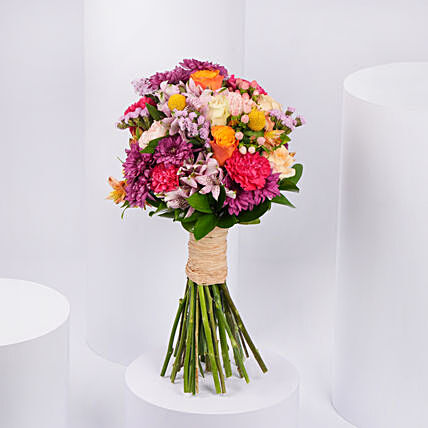 Oversized, greenery-filled wedding bouquets have become somewhat of the norm these days, especially for couples getting married in garden settings or hoping to achieve the whimsical, farm-to-table look with their wedding flowers. But in 2023, the trend is expected to shift toward smaller, more effortless bouquets – possibly inspired by the spike in micro weddings, intimate gatherings and informal elopements during the last couple of years, especially after COVID.
Dried Flowers
Dried flowers are becoming increasingly popular for weddings, especially during the summer months. They add a vintage, bohemian feel to any wedding and can be used in a variety of ways. Dried flowers are perfect for outdoor weddings, as they can withstand the heat and wind better than fresh flowers. Consider using dried lavender, baby's breath, or pampas grass to achieve this look. Since dried flowers are available in a range of colours and textures, you can choose the ones that best suit your wedding theme.
Hanging Installations
If you want to make a statement on D-Day, hanging floral installations are a trend that's been gaining popularity in recent years, and it's not going away anytime soon. These installations add a sense of drama and grandeur to any wedding venue and create a stunning visual impact. From creating a floral canopy over the ceremony area to hanging from the ceiling of the reception venue – they can be used in a variety of ways. They're quite perfect for summer weddings, as they can be used to create a breezy, airy atmosphere.
Mix and Match
Among many summer wedding flower trends, one that's gaining high popularity in 2023 is mix-and-match arrangements. Instead of sticking to a single type of flower, consider using a variety of flowers and greenery to create unique and eclectic arrangements. This trend offers a wider room for creativity & personalisation and can add a fun, playful feel to your wedding. If you are not sure about the same, you can always hire a professional florist for your wedding.
Foliage-Focused Arrangements
For those on the lookout for popular and unique summer wedding flower trends, don't miss out on the foliage-focused one. Such kind of arrangements features lush greenery with minimal flowers, creating a chic, minimalist look. They're perfect for summer weddings, as they add a sense of freshness and vitality to the decor. They're also budget-friendly, as they require fewer flowers than traditional arrangements.
The right blooms can transform a venue into a dreamy, ethereal wonderland that will captivate the senses of all who attend. So, if you two just got engaged and planning a summer wedding, don't forget to incorporate these summer wedding flower trends. They will make sure your big day is as stunning as possible.